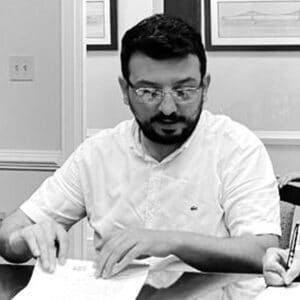 Navigating through the detailed intricacies of kitchen and bath renovations, Fairfax Kitchen and Bath deeply values the refined craftsmanship and unfailing reliability brought into our projects by Mustafa Alpsar and his esteemed team at USA Marble and Granite.
Mustafa, not just an owner but a pivotal craftsman, has shaped USA Marble and Granite into a paragon of quality and precision in the countertop industry since its inception in 1997. His team, armed with advanced laser measurement tools and the latest CNC technology fabrication machines, ensures each countertop is cut and installed with impeccable accuracy and finesse.
From the first laser measure to the skilled installation, Mustafa and his crew are ever-ready to leap into action, consistently aligning with our values and timelines to provide clients with a seamless journey toward their dream spaces. Their unyielding commitment to precision and quality has been an integral element in our 'one-stop-shop' concept, where every detail is meticulously managed and executed.
Embodied with a spirit of collaboration and a relentless pursuit of perfection, Mustafa and USA Marble and Granite stand as not only our preferred countertop fabrication company but as a pivotal part of our team. We are united in our mission and proudly stand shoulder to shoulder in delivering spaces where every cut, polish, and installation tells a story of excellence and integrated craftsmanship.