Add value to your home through smart kitchen remodeling.
We help homeowners realize their dream homes through
effective home improvements.
Add value to your home through smart kitchen remodeling. We help homeowners realize their dream homes through effective home improvements.
Northern Virginia's Finest
Design + Build
Team
We are an award-winning Fairfax Kitchen and Bath design showroom founded by kitchen specialist with over 7 years' experience. We believe that the kitchen is one of the most important parts of a home and work to deliver the best kitchen ideas to each of our clients.
We offer a free consultation to help you plan and design your dream kitchen remodel. Our designers will review your current kitchen and see what are the best things we can do to improve its value, beauty, and function.
Get remodeling ideas with Kitchen Remodeling Before and After or book a free consultation today, so we can start planning for your kitchen renovation. You can also visit our showrooms in Fairfax and Sterling, Virginia.
View our previous portfolio to get kitchen remodeling ideas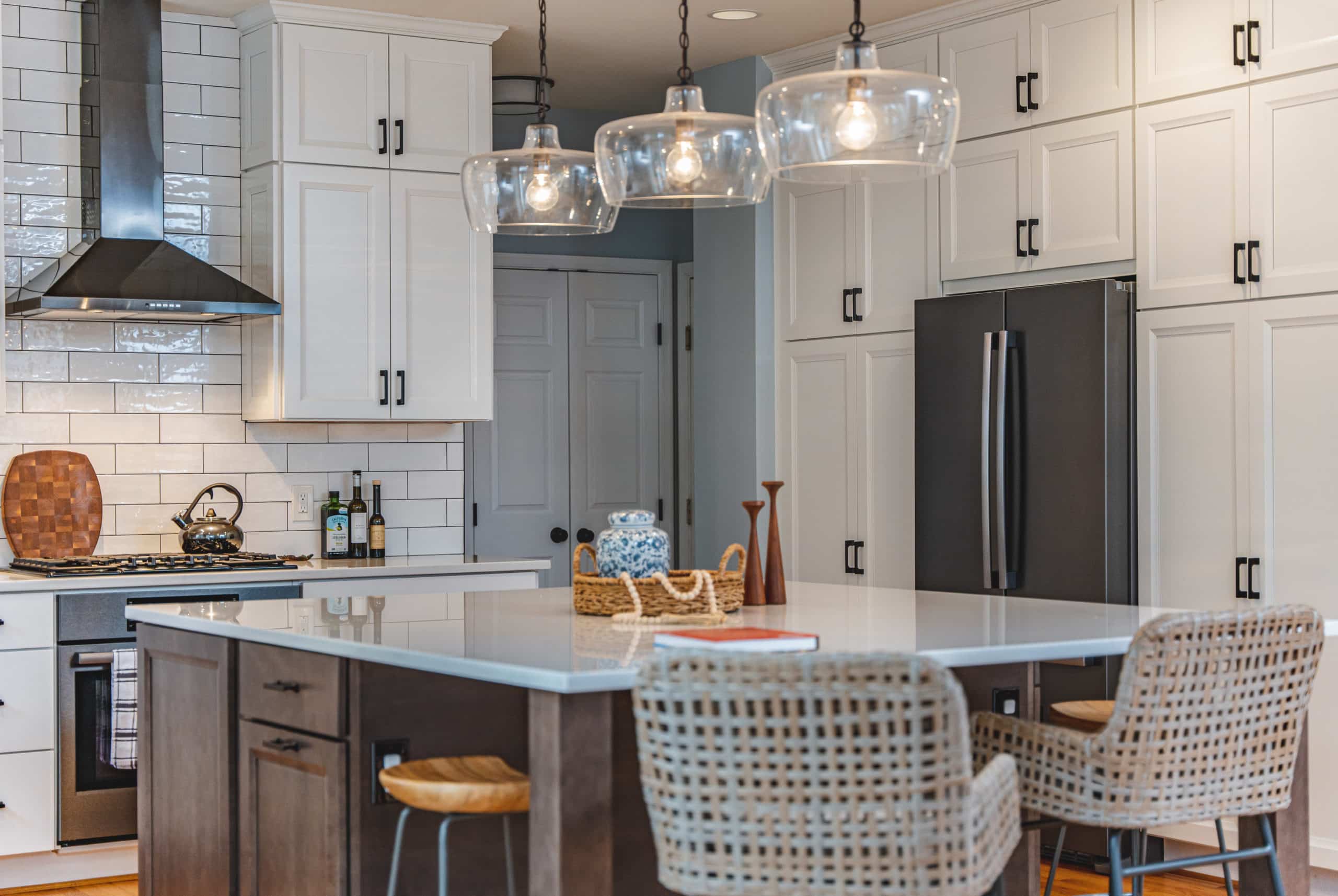 Our mission is that we ensure that everything goes smoothly and according to schedule to achieve quick and exemplary results, we design our kitchens to cater to the tastes and needs of our clients, and we are dedicated to providing our clients with personalized service and innovative design solutions using premiere products and up-to-the-minute technology.
Providing quality service​
With our accessible, state-of-the-art showroom, we are one of a select number of firms that offer a one-stop experience to clients in Northern Virginia Area. Our experienced kitchen, bath, and home cabinetry specialists are personally available at every stage of a project-from the initial consultation through the design phase to the selection of products and our expert installation. We also offer quality small kitchen remodeling service as well.
FAIRFAX KITCHEN BATH is a family owned and operated business serving the DC, MD and VA metropolitan areas. We are a Class A, licensed and insured contractor, registered in the Commonwealth of Virginia. We are specialized in every aspect of remodeling. We offer Remodeling A-Z: Kitchen and Bathroom Cabinets, Marble, Granite, Countertops, Ceramic, Porcelain, Tile, Hardwood, Carpet, kitchen and bath design. If you're considering on Kitchen Remodeling in Alexandria VA, Kitchen Remodeling in Arlington, VA, or Kitchen Remodeling in Washington, DC, we're here to help you!
We use our own in-house professional crews to get the job done in a timely manner and with your complete satisfaction. You can count on us for being the one-stop resource for your complete makeover of your kitchen and/or bath remodel.
Equal parts blue collar builders and no collar designers. Rustic, Modern, Art Deco or Contemporary, our team of aesthetic consultants will work with you to identify the look right for your space, while our builders execute that plan to create a landscape which coheres to your individual taste. Having our production coordinators, expediters, foremen and designers all under one roof means that your project will run as precisely as the clock in grand central station. Hiring an all-in-one team means that there'll never be a disconnect, from drawings to 3D renderings to grout and tile work, our crew will operate in lockstep with an understanding and confidence in each team members ability to carry the plan forward.
Our Build and Design Process
Comprehensive Guide to Our Build and Design Process
We can't say enough good things about our experience with Fairfax Kitchen Bath. Sena, our designer, translated our words into absolutely beautiful and functional designs that complemented our home and our aesthetic. She came to us with creative ideas and practical solutions to address the challenges inherent in any renovation plan. She was an absolute pleasure to work with, and we feel fortunate to have found her. Oguz, our project manager, worked tirelessly to ensure that the product FKB delivered exceeded our expectations. He made himself available to us and supported us every step of the way. He effectively managed the crew and directed their efforts to ensure a quality job. We love our new kitchen and master bath, and we are looking forward to working with our fabulous Fairfax Kitchen Bath team on our next project.
I recently had my kitchen remodeled by Fairfax Kitchen and Bath and I couldn't be happier with the results! From the design phase to the build, their team exhibited professionalism, expertise, and a keen eye for detail. The final outcome has truly transformed my space, blending functionality with modern aesthetics. I highly recommend them for anyone looking to bring their home renovation visions to life!
Incredible work from the entire team! Fairfax Kitchen & Bath designed and installed a full bathroom reno for us. Sena's designs were top notch and captured everything we were trying to accomplish. Johnny and his team did a fantastic job through demo (including removing built-in 90s Jacuzzi tub), moving water and electrical fixtures, removing and replacing a wall, installation of new cabinetry/countertop, custom shower, stand alone tub, and lighting. Some initial concerns with communications and trash removal but the team worked through those issues. Minor issues that popped up - wrong color fixtures - were quickly remedied with no hassles. Final product well worth the time and money. Highly recommend.
The project started, ended and costs as promised. Craftsmanship is beautiful. Craftsman were very professional. A great experience. Will use them again for all my future renovations.
On-time service given. It was an urgency and on Sunday they finished the work. Workers were quiet, working clean, and kind. Budgeting was reasonable despite it was an urgent issue. Thanks guys.
Mustafa Alpsar
2023-04-11
I recently had my bathroom remodeled by Fairfax Kitchen and Bath in Haymarket, and I am thrilled with the end result! The team was professional, knowledgeable, and attentive to my needs. The design process was easy and the installation was efficient. I highly recommend them for any home remodeling needs. Thank you, Fairfax Kitchen and Bath!
Very professional always easy to get a hold of. Responded to questions very quickly , work was very well done. Honored all issues that came up even after installation in a timely matter.
Sam and his team has done a great work for my grandmother. Gracias todos mi amigas
Professional and quality service.
Fairfax Kitchen and Bath is a family owned and operated business serving the DC, MD and VA metropolitan areas. We are a Class A, licensed and insured contractor, registered in the Commonwealth of Virginia. Offering quality Kitchen Remodeling, Bathroom Remodeling and more remodeling service. We use our professional crews to get the job done in a timely manner and with your complete satisfaction. If you want to have your Kitchen Remodeling on budget, we got them here for you.
Our cabinet line of collections from Decora, Shcrock and Forevermark provide the best choice for you whether you prefer a traditional or a more modern style to suit your desire. With our professional crews we get the job done in a timely manner and with complete satisfaction. Our expert team are here to help in all of the locations below:
Let's design your home together
Complete the short questionnaire to kick off your estimation process, or learn more about Kitchen Remodeling Cost.
Kitchen Remodeling: Kitchen of Your Dream
Kitchen remodeling can completely transform the heart of your home, creating a space. Fairfax Kitchen and Bath Remodeling is your one-stop destination for premier kitchen remodeling services in Fairfax and beyond.
Kitchen remodeling is a collaborative journey with our expert team, where your ideas and our craftsmanship come together to create the kitchen of your dreams. A well-executed kitchen remodel can breathe new life into your home, making it more enjoyable to live in and increasing its market value. Whether you're looking to sell your property or create your dream kitchen, our kitchen remodeling services are designed to meet your goals. We work closely with you to create a kitchen design that complements your lifestyle and taste.
Whether you want to refresh your current cabinets or install new ones, we've got the skills and options you need for your kitchen remodeling. Choose from a wide range of durable and aesthetically pleasing countertop materials to match your design for remodeling for your dream. Upgrade your kitchen with both functional and visually appealing flooring options while remodeling your kitchen. Our selection of lighting and fixtures will enhance the atmosphere and functionality of your kitchen. 
Modernize your kitchen with energy-efficient and elegant appliances. Our experts ensure all plumbing and electrical work is completed to the highest standards. From paint colors to backsplashes, we handle all the final details to make your kitchen shine while remodeling your kitchen.