When you feel like your current shower isn't serving you well already, then it's the right time for you to do a shower remodel on a budget. Then you're going to ask yourself, is this going to be easy?
Honestly, you have two options: DIY or hiring shower remodeling contractors for this endeavor. Both options have their respective pros and cons, which you need to know before finally choosing one.
Today, we're going to help you undertake affordable shower remodeling that's worth the buck. If you have any questions, contact Fairfax Kitchen and Bath today.
Which is better: Tubs and Walk-In Showers?
The burden of choosing which one usually goes to those who only have one of these. You need to consider cost, style, and usage in selecting which one suits you well for your daily use.
On the other hand, if you already have both, then your burden is whether to buy a new one or simply just refinish your old tubs, shower head, and fixtures.
For your tub, if your current is still functional and there are not many dents or cracks, then you can just refinish and do minor repairs. It will save you $200 to $900 from a brand new tub.
Walk-in showers are more expensive than tubs, both in terms of products and labor cost. The cheapest shower remodel you can have is $300 but it can go as high as $15,000.
You need to ask for a free quote from a reliable contractor, so you can weigh things properly. Nonetheless, the benefits of a walk-in shower are unparalleled compared to a tub.
Will You Choose Tile or Acrylic?
If you're on a slim budget, then having an acrylic or fiberglass shower wall panel is most affordable than installing new tiles. Shower wall tiles are much expensive for both material and labor. It also takes longer hours for the personnel to finish tiling your entire shower wall and floor.
Acrylic shower wall panels cost around $600-$800 for a 60"x32".

Fiberglass shower wall panels cost $300 to $450 for a height of 72" to 74" with a thickness of 1/8".

Tile shower wall costs $12.50 per sq. ft. If you have a 36"x36" shower, then expect to pay around $1,000 to $3,000 for materials and labor costs.
Labor Cost
Unfortunately, shower bath remodeling is not that cheap and easy to do, that's why most homeowners hire a remodeling contractor. If you have some woodworking and plumbing skills at hand, and that, you're willing to get dirty, then you can go for a DIY budget shower remodel.
Based on the industry, the labor cost for this endeavor is around 40% to 60% of your overall budget. Let's say for plumbing works, that'll be around $1,000 to $2,000. Whereas, for tiling service, that'll be around $1,600 to $2,120, or $25 per square foot of the area where tiles are to be installed.
Definitely, this is something you need to consider since if you do DIY and you make a mistake with the plumbing or tiling, then you're going to make an expensive redo of work.
Cheap Isn't Always Good
Remember that you don't frequently remodel your shower since it takes so much money, time, and effort. That's why you need to invest in products that are durable, waterproof and would stay long even when there's too much moisture.
For our shower remodeling service, we always remind our customers to look at long-term investments when buying bathroom fixtures and products for their best shower remodeling outcome. Here are some insights:
The shower base pan is an important part of your walk-in shower, so it needs to be strong to hold on to your weight. If you choose a cheap shower pan and then it breaks, then you're going to replace everything, which means you spend again on new products and installation services.

A laminate shower panel is also an excellent option if you're trying to save. It's cheaper than tiles and easier to clean as well.

For your framed shower doors, you can save more if you go for medium thickness instead of those very thick ones.
Keep Your Shower Area The Same
You want to save on plumbing costs, right? Then you need to keep your shower size constant to avoid moving pipelines. Remember, professional plumbing service costs $1,000 to $2,000.
What's the average cost to remodel a shower?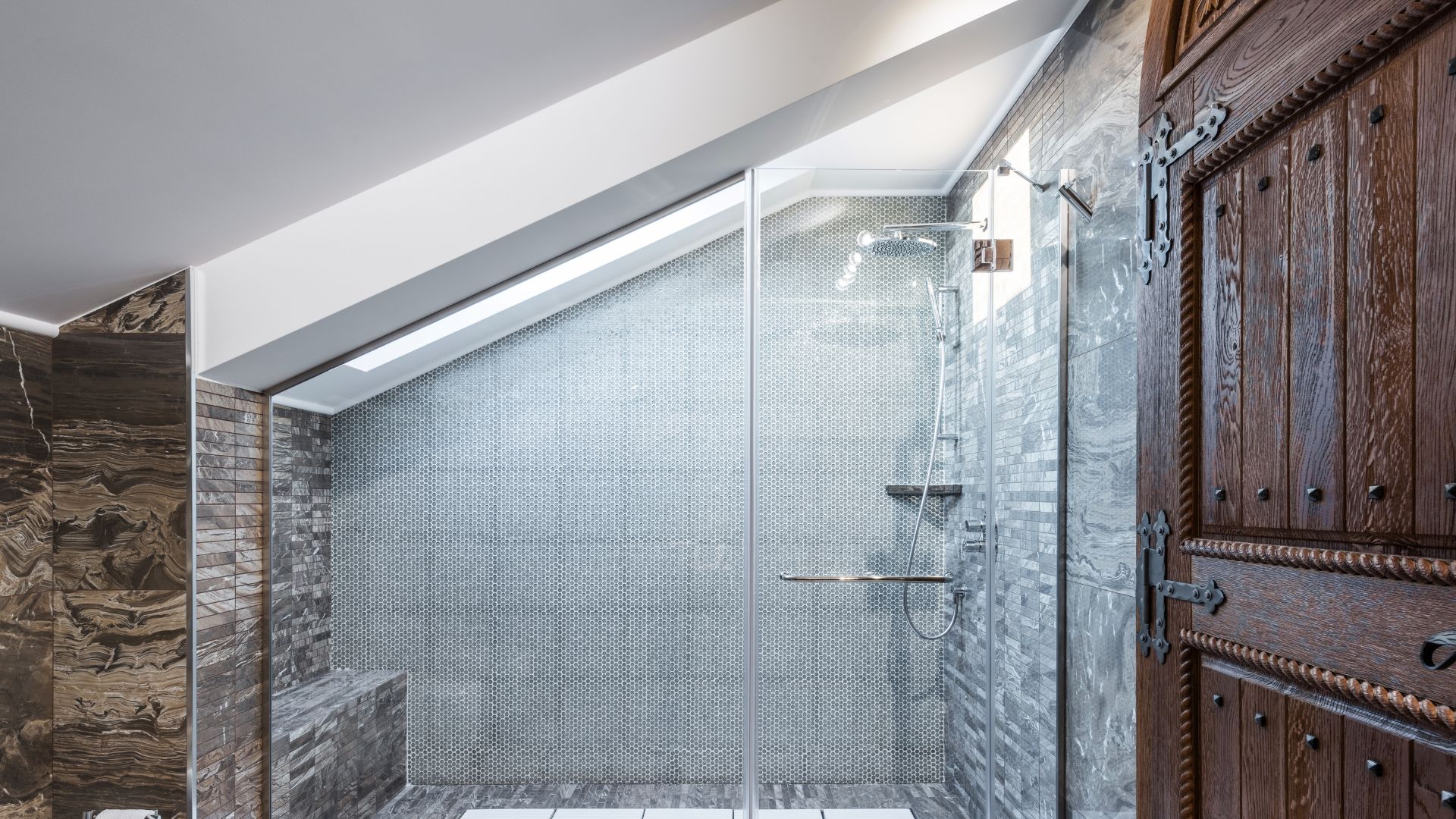 Do you want a waterfall showerhead or a jet body sprayer? How about a sauna or steamy shower? Before you choose one, it's best if you'd know how much these things would cost, right?
So far, the average shower remodeling cost is $4,130, where it usually ranges from $300 to $15,000. That actually depends on the showerhead types and fixtures you are going to use.
Here are few more pointers regarding the budget of a shower remodel you're planning to undertake today.
Prefab Shower
This shower remodel will only cost you around $815 to $930, and the usual materials used for this include acrylic, Gelcoat fiberglass, and plastic. A prefab shower is easy to assemble and install, you can do this on your own.
However, the main setback will be the limited options for size and style, which may not match your existing shower area.
Standard Shower and Tub Combo
This transitional shower remodels theme is common to exist single-detached family houses. To save on materials and labor, retain and refinish your tub while installing a semi-custom shower. This setting is good when you have children already.
Customized Walk-In Shower Remodel
If you have the money to go for a luxurious shower renovation, then this is the best choice. It will cost you around $6,000 to $10,000 for both materials and labor.
You also get to choose the type of shower head you want to be installed, and other features like a combination of a waterfall overhead shower and a jet body sprayer.
Looking for a Reliable Shower Remodeling Contractor?
Fairfax Kitchen and Bath is your trusted local remodeling company to call for your budget shower renovation. Our designers and contractors can effortlessly adjust everything to suit your finances and lifestyle.
All of our materials and products are coming from reputable suppliers in the industry, so you can count on their durability and style. 
If you need a free quote or consultation, we would be happy to give you ideas for shower renovations.  Call our office today or visit us on Facebook anytime!