Make the most out of your space by having a custom small walk-in closet that fits your organization needs. This space-saving storage is your answer to a cluttered wardrobe. 
Today, we'll be talking more about it, and how you can make your own design based on our walk-in closet ideas.
Walk-In Closet, What is it?
It is a large closet where it allows one or two people to walk-in, choose their outfit and try it on them. It's like a fitting room in shopping malls with your clothes selection inside already.
A full body mirror will also be present there for you to check on your outfit from head to foot. Besides, the main purpose of having a walk-in closet is for you to have ample storage for your clothes, shoes, and accessories.
Custom Small Walk-In Closet Ideas
We've compiled here different ways for you to customize your small walk-in closet. Go over them and see which ones you like to have for your own closet system.
Add various kinds of closet storage
Hanging rods are the common things associated with walk-in closets. Actually, there are more types of storage you can add. For instance, cubbies are good for storing your shoes and sandals. Drawers are good for storing your accessories, folded clothes and pants. Plastic bins can also be where to store your footwear, necktie, and other accessories.
There are endless custom small walk-in closet plans you can think of today. Our in-house designers can help you finalize the layout and design of your closet.
Design it with Style
Whether you have a large or very small walk-in custom closet, it doesn't mean you can style it to match your personality. Our designers can help you work on the design of your closet. Here are some ways to do that:
Color of your closet doors

Wrapping the inside walls of your closet with brilliant colors

Lighting installed in the interior walls of your walk-in closet

The number and layout of open shelving, drawers, and hanging rods
Effective use every square inch of your walk-in closet
Never waste a single inch of your closet. A custom organizer for small walk-in closet is always best for you. You can tell our designer how many racks, open shelves, hanging rods, baskets, and cubbies you want in your walk-in closet.
We'll help you decide on this in a way that it'll make your sorting and storing more efficient. This is our expertise, and we want you to have peace of mind when it comes to sorting your clothes.
Allocated Storage for Knits and Sweaters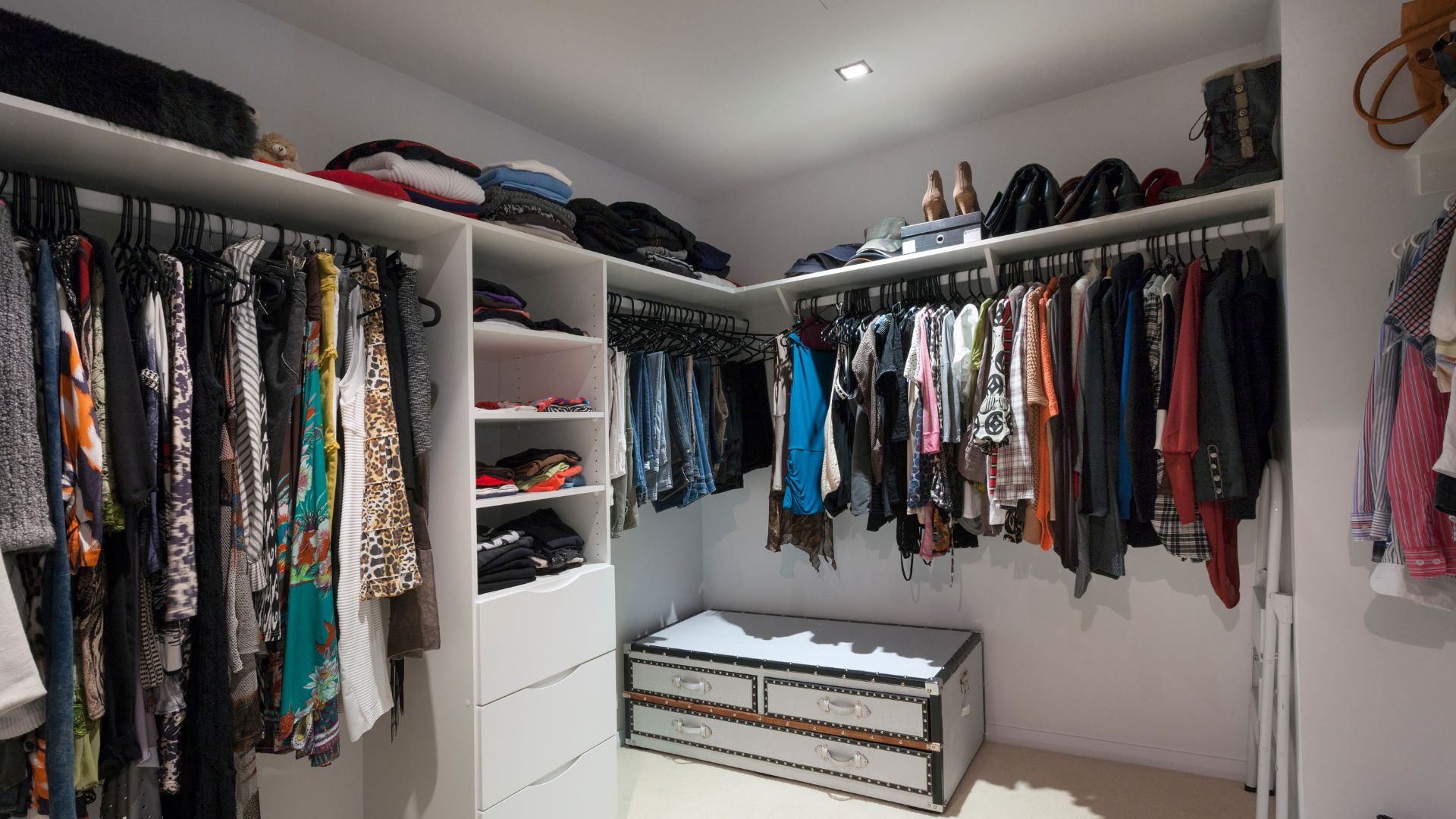 If you love buying boots and sweaters, it's best if you have an allocated hanging rod and open shelves for them. That way, you're protecting your investment. These items are expensive, so you want them to last for a longer period. A custom closet with good moisture control would also be best for this.
Paint or cover with wallpaper the ceilings of your walk-in closet
Covering the ceiling and interior walls of your custom walk-in closet is a good idea to accentuate it. You can choose a color or design that contrasts with the paint of your closet exterior surface. Installing LED lighting inside your closet would also be good since it'll help you see and sort things properly.
Open shelves on top for your boxes
Open shelves are a smart way of increasing the storage capacity and versatility of your walk-in closet. You can have open shelving at the top-most portion of your custom closet, or have them at the bottom and sides as well. It all depends on your preference. 
If you have a single-wall custom closet, we also suggest that you have a glass folding door so that you can easily view the inside. Active LED lighting installed on the closet interior walls would be ideal to increase the visibility of your items stored there.
Don't forget about ventilation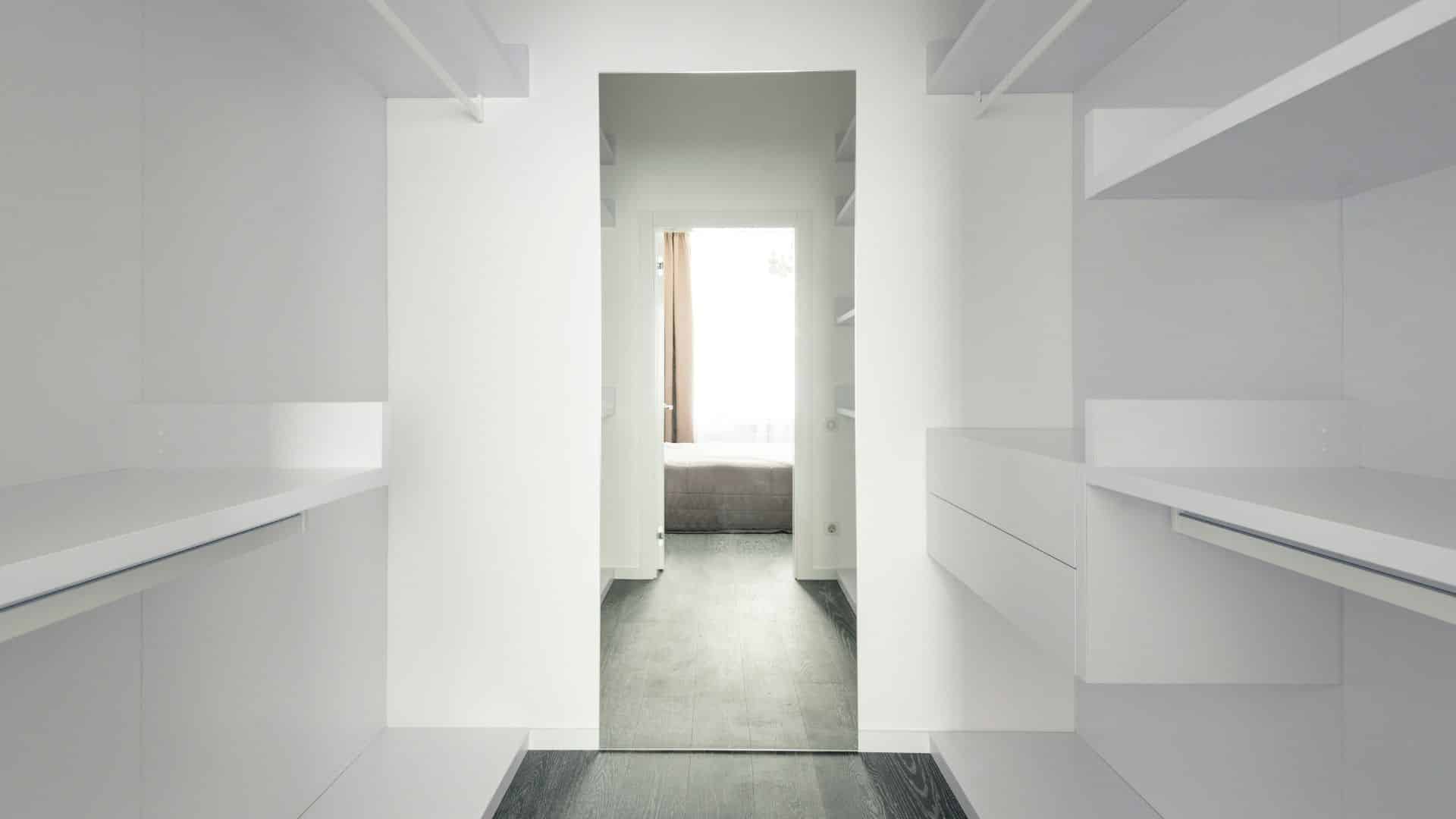 Accumulated odor inside your closet is not impossible, especially if you accidentally store soiled clothes inside. It could also be that your newly washed clothes haven't completely dried up before keeping them inside. This can result in a nasty smell you wouldn't want inside your closet.
Here are some ways for you to avoid that:
Place activated carbon or baking soda in a plastic container and place that inside your closet for a day. It will absorb all odors inside.

Installing active exhaust on your custom closet

Incorporating some holes or slits on your closet doors to allow air circulation while closing your closet.

You can also spray fragrant disinfectant on your closet once every week to decontaminate and deodorize it.
Bins and Thin Hangers 
Bins offer an easier way for you to access your clothes and accessories. You can pull them out of your open shelving. You can fold your shirts and polos inside the bin or basket.
Thin hangers are also recommended since it helps save space on your hanging rod. You can maximize the space. If it allows, we can have 2 levels of hanging rods for your custom closet.
Other things you can have for your walk-in closet?
Besides the ones we've mentioned above, there are many other things you want to have for your walk-in closet. Let's have them below:
Closet Island
This is a good addition since it can serve like your table and bench inside your closet. You can comfortably sit on it while fitting your shoes or socks. You can also place on top the watch and bag you plan to wear along with your outfit of the day.
Safe
Instead of placing your safe inside your master bedroom, you can have it in your walk-in closet. We can install that into the wall so that it is more discreet.
Laundry Hamper and Ironing Board
You need to have a laundry hamper to store all your soiled clothes so that they don't smell inside your walk-in closet. We can build that into your closet and have a cover for it.
A foldable ironing board will also be good. This is space-saving and functional for your closet. When you need quick touch ups with your clothes, this becomes a useful addition.
Need Free Design Consultation?
Staying organized with your clothes and accessories is a must. It helps keep your home tidy and clean. Having a walk-in closet is a wonderful addition to your home. It adds value and beauty to your master suite bedroom. 
Have you chosen a design for your closet? If not, then we can help you get a custom closet design that works around your needs. Book a free consultation with us today!
Visit us on Houzz to get to know more about us! Should you require free design consultation, you can request one today! You can also call us at 703-936-6898 to get a quicker response from our team.