Has your basement been sitting untouched for years? If you've been looking for some inspirational basement ideas to spruce up your basement's function and design, you are in the right place. Here we are featuring the 15 best designs for your modern basement remodeling ideas in 2021.
Partnering with an experienced remodeling contractor is a wise first step, as they have the proper experience, skills and tools to bring your basement design ideas to life. They also have ideas on bathroom remodel on a budget. Call us at Fairfax Kitchen and Bath and we can make your modern basement ideas a reality. Read on for some cool basement ideas and  to get you started.
15 stunning ideas for modern basement renovation
These are our curated basement improvement ideas for turning your dark, damp basement into a useful, fun space in your home. If you like what you read, call our office today and book an appointment for a free consultation. We can bring these basement design ideas to life for you.
Classy
By choosing a tan, brown or beige color, it will bring natural warmth and a classic look into your newly finished basement ideas. Beige paint for the walls coupled with a well-polished hardwood floor complement nicely with brown-colored upholstery, such as a leather sofa. Finish the look off with warm lighting to illuminate your classy finished basement.
Chill and playtime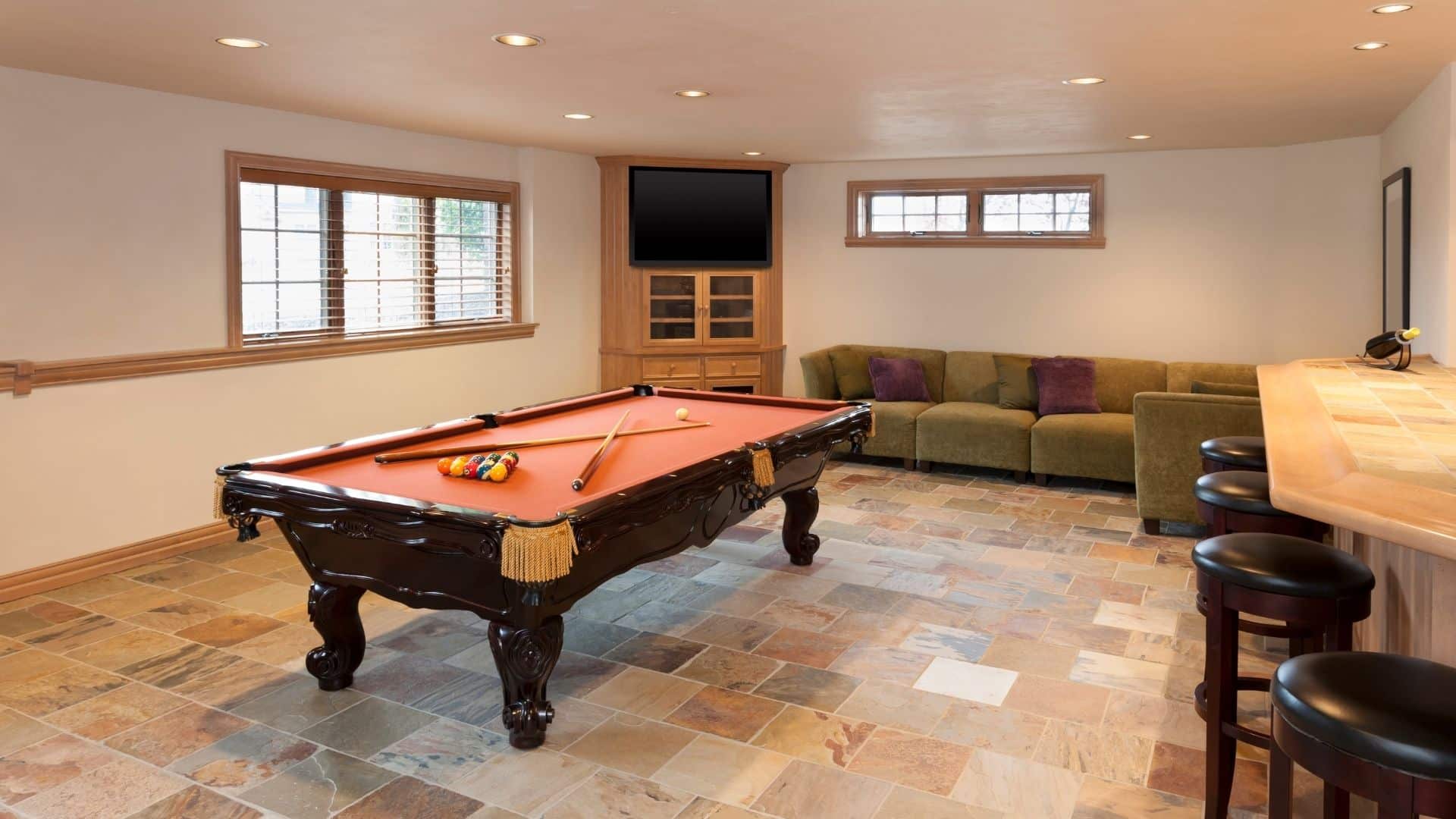 Convert your basement into your very own private entertainment space. Imagine the basement renovation idea of creating a pub with billiard tables, dart games, board games, a wet bar, and gathering areas. Think of the great parties you could host for family and friends! We can build in enough recessed, modern lighting to give you a vibrant and welcoming feel in your newly remodeled basement.
Living room extension with granite theme
Your basement improvement ideas could include an extension of your living space, decorated with granite tones. This can be done with light gray or navy blue color themes for a sleek, modern appeal. Complement any of these colors with a white ceiling – a great contrast with black or dark gray granite countertops and dark blue upholsteries.

Work at your basement
Since the pandemic hit, working from home has become more common. A smart basement remodel idea is to transform it into a mini office. This is one of the most useful basement improvement ideas of 2021. To style and design your home basement office, choose white walls and ceilings paired with laminate or hardwood cabinets and drawers.

Stylish and homey vibes
A wise basement improvement idea is to convert the space into a relaxing paradise to unwind and spend time with family. We can install an extra-wide flat screen TV to serve as a mini-movie area. For a classy and homey ambience, we suggest leather seats, ottomans or sofas. Underneath the TV is a great place for a digital or real fireplace to bring in warmth.

Bookworms and music lovers
Cool basement ideas for those who love to read and listen to music is to install wood shelving for all your books or records. We can install speakers for surround sound. This can serve as a hangout space or a cozy, private spot to enjoy your favorite novel or music.

Intricate artistic scene
Splurge on your basement ideas with modern architectural design and decor to accentuate the space. Infuse rustic style with hardwood floors and ceramic tiling on the walls. A granite, quartz, marble or butcher block central countertop could become a focal point of the space with warm, pendant lights hanging above. We can also mount any wall paintings you might have.
Modern movie theater
If watching movies is a favorite hobby, a cool basement renovation idea is to convert your basement into a private cinema. We are able to install modern equipment and a top-notch sound system. An LCD screen and leather seating make this basement idea a design dream!

Contemporary guest lounge with electric fireplace
Turn your basement into a high-end guest lounge with modern upholsteries and design. An electric fireplace with wood paneling adds nicely to this theme while bringing warmth to your basement.
Gray and white
If you prefer a contemporary approach, considering gray and white with your basement ideas is a great choice. Gray upholsteries with white countertops, ceilings and walls is your best bet.

Bold and colorful
Another option is to go a more bold route with vibrant colors for your basement renovation ideas. After installing hardwood or laminate floors, we can help you select area rugs to add that pop of color. We also suggest white walls and ceiling complemented by colorful artwork and design choices. Imagine this as a child's learning space!
Sweat it out
If athletics are a passion, we can transform your basement into a mini gym. We can subdivide the area according to the fitness program you want and even cover one wall with mirrors, just like at the regular gym!

Cozy wine cellar
Do you enjoy gathering with friends and family over wine? Another one of our great basement ideas is to create a home wine cellar. With the right lighting and wood accents, you'll feel like you're out wine tasting!
Contemporary Scandinavian look
If an airy, simple, cozy living space is part of your basement ideas, choose a Scandinavian theme. It works especially well in a small basement space where we can focus on simplicity and neutral tones.
Victorian inspired
If a more fancy design aesthetic is part of your basement ideas, choose a Victorian inspired living room extension. We will keep with the intricate theme while still choosing modern designs. This can include rustic flooring and geometric shapes throughout the space with white or other neutral tones.
Looking for a basement contractor to bring your basement remodel ideas to life? You won't be disappointed in partnering with us at Fairfax Kitchen and Bath. We will ensure a timely completion and attention to details in remodeling your basement. 
Contact us today for your free quotes and virtual consultation. For many years, we've helped several homeowners in VA, MD, and DC with their affordable shower renovation. Don't hesitate to call our office today or visit us on Houzz!