There's a fine line between a kitchen peninsula and a kitchen island. Unlike kitchen islands that are freestanding units, usually in the center or top corner of a room, peninsulas connect to the cabinetry and extend the countertop. Many referred to kitchen peninsulas as the baby brother of the kitchen island. 
Peninsulas offer three sides of the workplace and often form an 'L-shape' where one end is attached to a wall or an adjacent counter space. The layouts for the kitchen peninsula offer an efficient and effective design for optimal spacing and storage. In order for you to get your desired design, contacting a remodeling company is your best choice. 
What is an ideal size for a kitchen peninsula?
Keep these things in mind as part of your kitchen remodeling ideas incorporating kitchen peninsula: 
Walking space- You should have enough space to comfortably walk around your kitchen. 

Depth- The depth is enough for preparing meals, eating, or cooking.

Overhang space- You'll need enough overhang space for your seating. 
The standard size of a kitchen peninsula is between 60-90 inches, depending on the size of your kitchen. Its depth is about 24- 36 which typically matches the depth of the rest of your counters, with 10-12 inches for overhang. 
Benefits of a Peninsula Kitchen
Kitchen Peninsula is a very versatile kitchen design and offers many benefits. Here are some of them:
Additional seating space for family gatherings and working. 

Creates more storage and working space. 

An excellent option for a long and narrow kitchen. 

Serves as a partition in the house. 

Easier to install appliances.

Suitable for small kitchens. 

Creates an effective kitchen workflow.
Top 5 Kitchen Peninsula Kitchen Remodeling Ideas
When it comes to the interior design and layout of your kitchen, learning from kitchen remodeling service experts is the best. You get practical tips and ideas that can work on your existing footprint. As for the layout of your kitchen peninsula, below are some brilliant kitchen peninsula remodeling ideas for you:
Galley Kitchen with Peninsula Layout
A galley kitchen layout is referred to as a corridor kitchen layout that is surrounded on either side and with a long, narrow path. This layout consists of a three to five-foot walkway situated between two parallel walls, wall cabinets, countertops, or base cabinets on either side. As for cabinets, make sure you look for modern kitchen cabinet ideas first before deciding. 
Adding a peninsula will serve as one of the sides of the galley. 
L-shaped Kitchen with Peninsula Layout
One of the remodeling kitchen ideas with the use of a kitchen island is an L-shaped design. This is a typical kitchen layout that uses two adjacent walls to form the L-shape. One of the legs is longer than the other, and these legs serve as storage space and countertops. 
When you add a peninsula, it can act as additional countertop space. Some kitchen peninsulas are deeper which provides more preparation space for baking and helps hold smaller appliances. 
U-shaped Kitchen with Peninsula Layout
Another great idea for remodeling a kitchen integrating the kitchen peninsula is a U-shaped kitchen layout. 
A U-shaped kitchen layout is a classic floor plan for peninsula designs. This layout comes in multiple variations and often incorporates a central island to increase workspace and table surfaces. For small kitchen spaces, adding a peninsula is a better option than a kitchen island. 
This is a sought-after floor plan as it delivers optimal storage space, counter space, and seating. 
G-shaped Kitchen with Peninsula Layout
A G-shaped kitchen layout has three adjacent walls of storage, and technically a U-shaped kitchen with a peninsula added. That is why this is also known as the peninsula kitchen.
This kitchen layout gives you extra storage and countertop space. That can be for your breakfast corner, or when you want to have tea time in the late afternoon.
Small Kitchen with Peninsula Layout
Due to the nature of its design, a kitchen peninsula is a great option for small kitchen remodeling ideas. A small peninsula kitchen layout helps efficiently organize limited space and gives more storage and countertop space. 
How can I upgrade my Peninsula?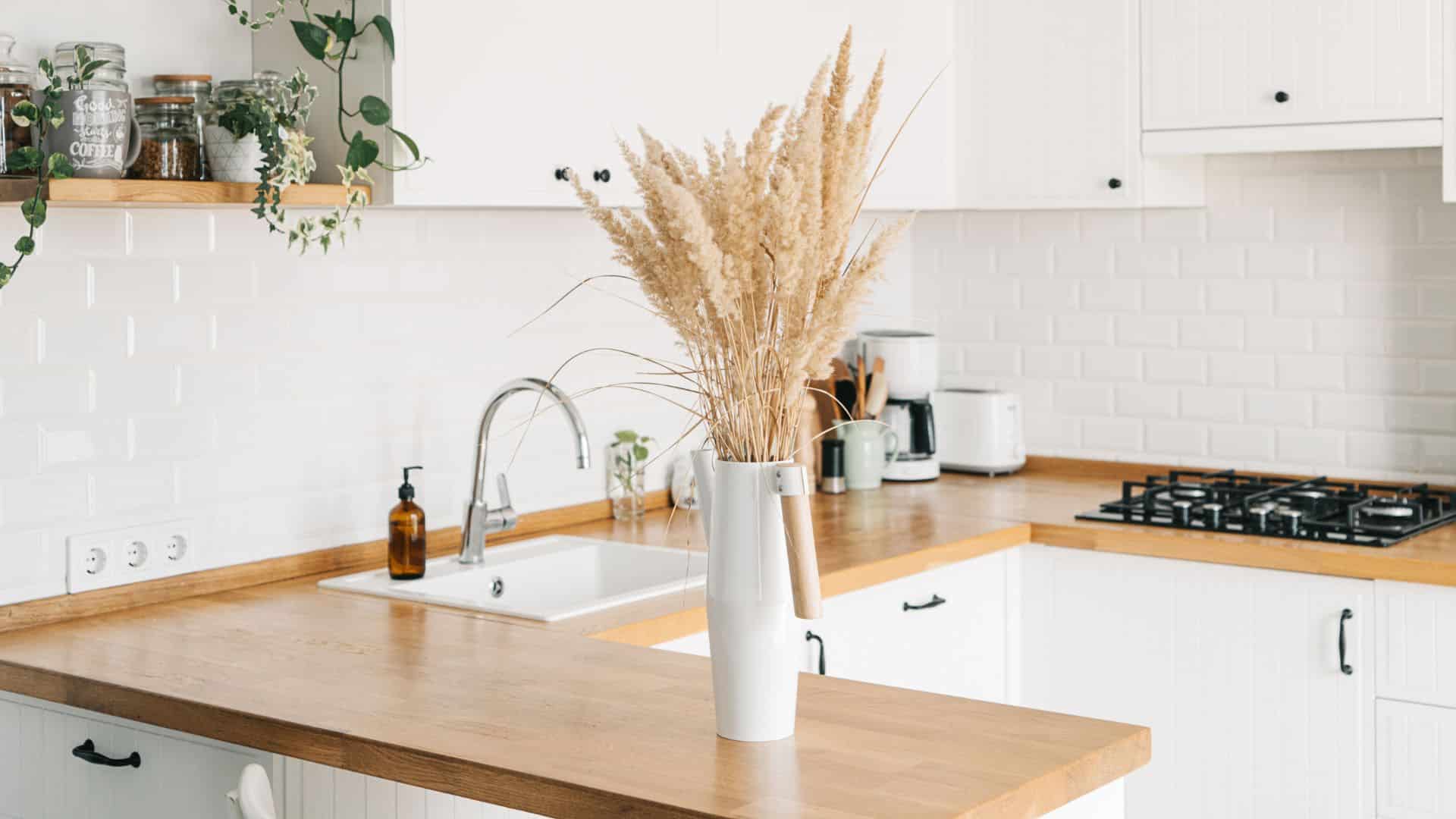 Are you excited to make your peninsula stand out? We want you to make the most out of them, so here are some ideas you can try. There are various creative kitchen peninsula ideas that will help create a stunning appeal to your kitchen. There are basic steps to planning a kitchen renovation, so make sure you never skip that step. Once done, you can think about the rest that comes with the project. 
Lighting
Beautiful lighting is one way of creating a warm atmosphere throughout your kitchen. This is a wonderful opportunity to be creative around your kitchen, by adding some compelling and fun lighting fixtures such as multi-colored glass pendants. 
Installing lights over your peninsula allows you to be more functional and increase safety as you work around your kitchen. Make your pendant lights match your chairs or countertop. That would create an amazing outcome.
Design
When incorporating colors into your kitchen, make sure it blends with the rest of the house theme. You can mix two-tone in the kitchen, where your peninsula uses a complementary color. 
Seating
Barstools suit best for a peninsula kitchen. They provide a unique and exciting style which is a great opportunity to express your creativity by adding some design elements to your home.
It could be that the cushion of your bar stools matches or contrasts with the base cabinets. If you have white cabinets, then you can go for brown or black leather seats to make a good contrast.
Storage
Use open shelving in your peninsula to display decorative pieces and artworks. The base of a kitchen peninsula can be used for extra cabinets to store more dishes and kitchen utensils.
At the corner where the peninsula connects with the main countertop, we can install a Lazy Susan there. And then at the end of your peninsula, you can have a pull-out tray there for a mini pantry. 
Extra sink
Having an extra sink on your peninsula would be good. You have an extra workspace for preparing your food. An under-mount sink would be ideal so that it'll be seamless, and you can easily clean up your mess.
Want more new kitchen remodeling ideas?
Designing your kitchen is a feat since you have many things to consider. Having a kitchen peninsula layout is a challenging one. You have to make the most out of your peninsula so that it'll be worthwhile. It does add storage and extra space for dining, yet it also adds beauty to your kitchen makeover. What comes next is maintaining it. If you want to keep your new kitchen in its best condition all the time, hiring maid services could help you, especially if you don't have time. 
If you need more kitchen ideas for remodeling, you can reach out to us. You can book an appointment with us, so we can help you plan and design your kitchen redo.
Should you need a free consultation, book it now. Or Call us at 703-687-9231. Feel free to visit us on our Houzz page as well!