Want to give your kitchen a fresh look without breaking the bank? Then repainting kitchen cabinets is your best choice. In this article, you'll learn practical tips for repainting old kitchen cabinets like a professional. If you have any questions, feel free to reach out, and we'll answer you as fast as we can.
How much is the cost of repainting kitchen cabinets?
You would get different quotes from different contractors for a repainting kitchen cabinet job. On average, repainting kitchen cabinets cost around $3,600 to $4,000. This is for a 120 to 180-square-foot kitchen. That is roughly $30 to $40 per square foot of cabinets to be repainted. This is the average cost of repainting kitchen cabinets today.
If you don't have the time to do this job yourself, then better hire a professional. It'll save you time and effort while you can still do other important things. This is the main benefit of hiring a professional for painting your kitchen cabinets.
How much is repainting kitchen cabinets DIY cost?
Have you thought of doing it yourself? Before you decide, better know how much it would you to repaint your kitchen cabinets on your own. Typically, you would have to consider labor and material costs for this matter.
In terms of materials, here are some price estimates for the things you'll need for repainting kitchen cabinets:
• 2 gallons top coat: $150
• 1 gallon primer: $40
• Tape, sandpaper, sponges, mixing cups, plastic containers, and other materials for painting would cost around $100 approximately.
All in all, your material cost is around $290 to $400. Oftentimes, if you go for high-quality paints, it would cost more, so you need to have an allowance for your budget.
We're done with the materials, so next is the labor cost. The average hourly rate of a cabinet painter is around $15 to $20. A professional contractor would take around four to five days to repaint all kitchen cabinets.
Considering that, you need to look into your hourly rate since you'll be spending time repainting your cabinets. If a professional painter spends a total of 16 hours repainting your kitchen cabinets, then the labor cost is $320 at $20 per hour. If your hourly rate is $35, then you spend the same amount of time, your labor cost is $560. Looking at this example, it's not cost-efficient for you to do this painting job. You'd save $240 for hiring a professional than doing it yourself.
How to paint your kitchen cabinets like a professional?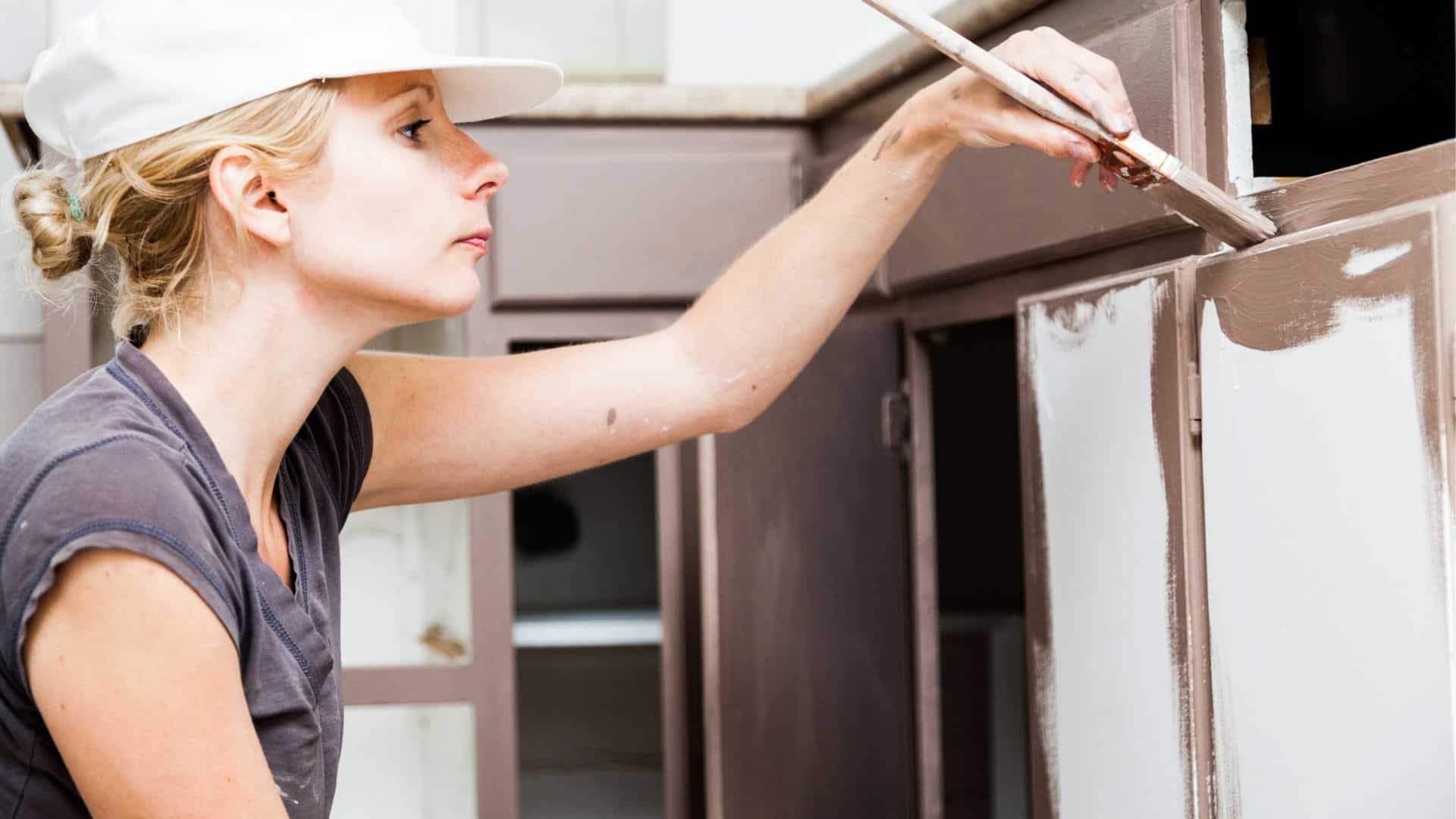 Here is your most awaited part, the steps on how to repaint your kitchen cabinets.
1. Evaluate the condition of your kitchen cabinets. You need to look at any damages on your cabinets before repainting them. This helps you assess the amount of work and cost for your kitchen cabinet repainting.
2. Take out cabinet doors and drawers using a portable motorized screwdriver. Make sure to label your cabinet doors and drawers so that you can easily put them back in their right places.
3. Ensure you have a cloth or newspaper on the floor or table where you'll paint your cabinets. You wouldn't want those stains on your floor or table. Painting is a messy job, so better safe than sorry for that matter.
4. Clean the inside and outside surfaces of your kitchen cabinets. Remove those oils and dirt on your wooden cabinets. This ensures the paint sticks to your wooden cabinets.
5. You can use high grit sandpaper for sanding your wooden cabinets. This helps refine the surface of your wooden cabinets ensuring the painting outcome is smooth.
6. Cover with tape those areas that are not intended to be painted. Do the same thing if you want to paint with a different color for the cabinet face and the exterior sides of your cabinet.
7. Apply a bonding primer to your wooden cabinets. By doing that, you are ensuring that your final coat (the paint you want for your kitchen cabinets) will strongly stick to your wooden cabinets.
8. Use a roller and a paintbrush for your prime and final paint. Make sure to use different rollers and paint brushes for your primer and top coat.
9. You need to do two coatings for both applying a bonding primer and your top coat.
10. When you apply paint or primer, brush in a single stroke. You will have a uniform outcome from doing that.
What kind of paint do you use for kitchen cabinets?
You have two main options – oil-based or latex. Which one is better for cabinets? The all-time favorite is oil-based paints. But right now, latex has been improving in quality.
A lot of homeowners and DIYers like to use latex for painting cabinets and other woodwork. They are water-based, easy to use, and can be easily removed using water.
If you want a top coat that will last longer and be harder to peel off, then oil-based top coats are your best choice.
Which is better, brush or spray painting?
Here goes another question for DIY repainting kitchen cabinets. Do you prefer brushing or spraying applications for your top coat? Well, that depends on which method you find easy to do. So far, most homeowners do both. First, they do brushing and the final top coat application is spraying to achieve a smoother finish.
What are some ideas for repainting kitchen cabinets?
Our designers can help you find repainting kitchen cabinets ideas that fit your home. You can view our showroom and gallery to see repainting kitchen cabinets before and after photos.
You'll be mesmerized to see how elegantly we transformed dated kitchens. We think about functionality and style in helping you pick the best color and style for your kitchen cabinets. Below are some in-demand cabinet colors:
• Matte black
• White
• Beige
• Maple
• Coffee brown
• Emerald green
If you need a free consultation for your kitchen cabinet remodeling, feel free to contact Fairfax Kitchen and Bath. We'll help you transform your outdated cabinets into stunning ones.