A walk-in shower can be an excellent addition to your bathroom remodel. It plays an integral part in a practical and versatile bathroom design. There is more than one way to create a beautiful walk-in shower such as changing the lighting, adding some storage, changing a few layouts, and many more. Aside from that, finding a reliable remodeling company is also a must.
Let us help you elevate your bathroom design with these walk-in shower remodeling design ideas. 
Curbless walk-in shower
When remodeling a walk-in shower, you must consider the size and safety of your bathroom. Having a curbless walk-in shower will enhance safety and accessibility inside your bathroom. In addition, removing the step can make your shower even more convenient. 
Moreover, choosing this design is a great option when remodeling a small bathroom walk-in shower. It gives an impression of a larger and airy space. You can always work with the expert designers from your chosen shower remodeling service to make sure that everything you like will be taken into the account. 
Add some tile to your style
A tiled walk-in shower is one of the most popular shower designs that works wonders. They help accentuate your bathroom design to a whole new level. Tile designs substantially complement the overall theme of a room and give a statement of their own. 
The most commonly used tiles for remodeling walk-in showers are ceramic tiles, porcelain tiles, etc. Here are some astonishing ways in which you can incorporate tiles to give your shower a touch of luxe:
Subway tiled shower
One of the most timeless design elements is subway tile. This type of tile works well for modern or contemporary bathrooms. You can incorporate glossy green subway tiles to add a playful color to your bath while white subway tile provides a sense of spaciousness.
Stone mosaic tiled shower
Stone mosaic tile for a walk-in shower boosts elegance and can draw attention as you enter the bathroom. Installing herringbone tile patterns complements well with a lighter color theme that creates a carefree feeling inside your bathroom.
Pebble floor tiled shower
A contrasting design is to add some stone features with exposed brick walls. It gives a natural appeal to your bathroom. Adding a handheld and rain showerhead can bring a spa-like vibe. Take a look at some bathroom remodeling before and after photos regarding this one, and it will surely change your mind. 
Marble tiled shower
The marble tiled shower showcases luxury and a decorative feel in the bathroom. It can be used on the walls with some decorative artworks or installed on the ceiling that offers a different character in the place. Lastly, it can be used for seating like a built-in marble bench. 
Light it up
One of the steps to remodeling a walk-in shower is to ensure that it receives plenty of natural light. Installing some wall windows allows available natural light to illuminate your space and make your entire bathroom bright and lively. If privacy concerns you, you may place the window higher up on the wall. 
Likewise, if you're designing a walk-in shower on the top spot of your home, adding a skylight is a great option. This creates an illusion of more space. It gives a more spacious feeling to your shower area.
Keep it neutral
Adding some limestone finishes and natural-finish oak help keep the neutral tone in your bathroom. Transparent barriers such as glass doors will allow natural light to flow through between the shower and bathroom. You may also add some natural textures such as faux wood floor tiles and muted river-rocks for your shower wall.
Having neutral tones, glossy finishes, and metallic surfaces are the trends today. It makes your shower and bath more modern, clean, and ambient.
Build in some storage
Oftentimes, walk-in showers don't come with corners to hold shampoo, soap, and other bath essentials. Installing a recessed wall shelf next to your walk-in shower will be helpful. You can also add a custom built-in shampoo niche to the wall of your walk-in shower. 
From a design viewpoint, it's the perfect place to add some artwork or decorative accents to your walk-in shower. A built-in shower niched or recessed wall will make your bathroom tidy and functional.  There are bathroom cabinet ideas that you can consider if you want to add more storage. 
Bring in some seats
Adding a floating marble seat is a brilliant concept. Many prefer to relax and sit in the shower after a long tiring day. This can act as a spa seat, a place for your wine glass, or an area for shaving your legs. Incorporating a rainfall showerhead can create a perfect spa-like space. 
You can also install towel warmers in your shower. This completes the spa retreat feeling of your space.
Steam it up
One of the innovative walk-in shower remodeling ideas you can execute is installing a hidden steam generator. The steam makes your towels warm and satisfying. Enclosing your walk-in shower with glass walls will contribute to the feeling of a fancy spa. 
Simple yet beautiful
For a budget friendly bathroom remodeling idea, use basic fiberglass for your doors with built-in facilities. Go for an all-white color theme to make the room vibrant and spacious. You can also include a built-in seat and ledges for storing bath essentials. A metal-frame door can be a wonderful alternative. 
Convenience of Walk-In Shower Remodeling Kits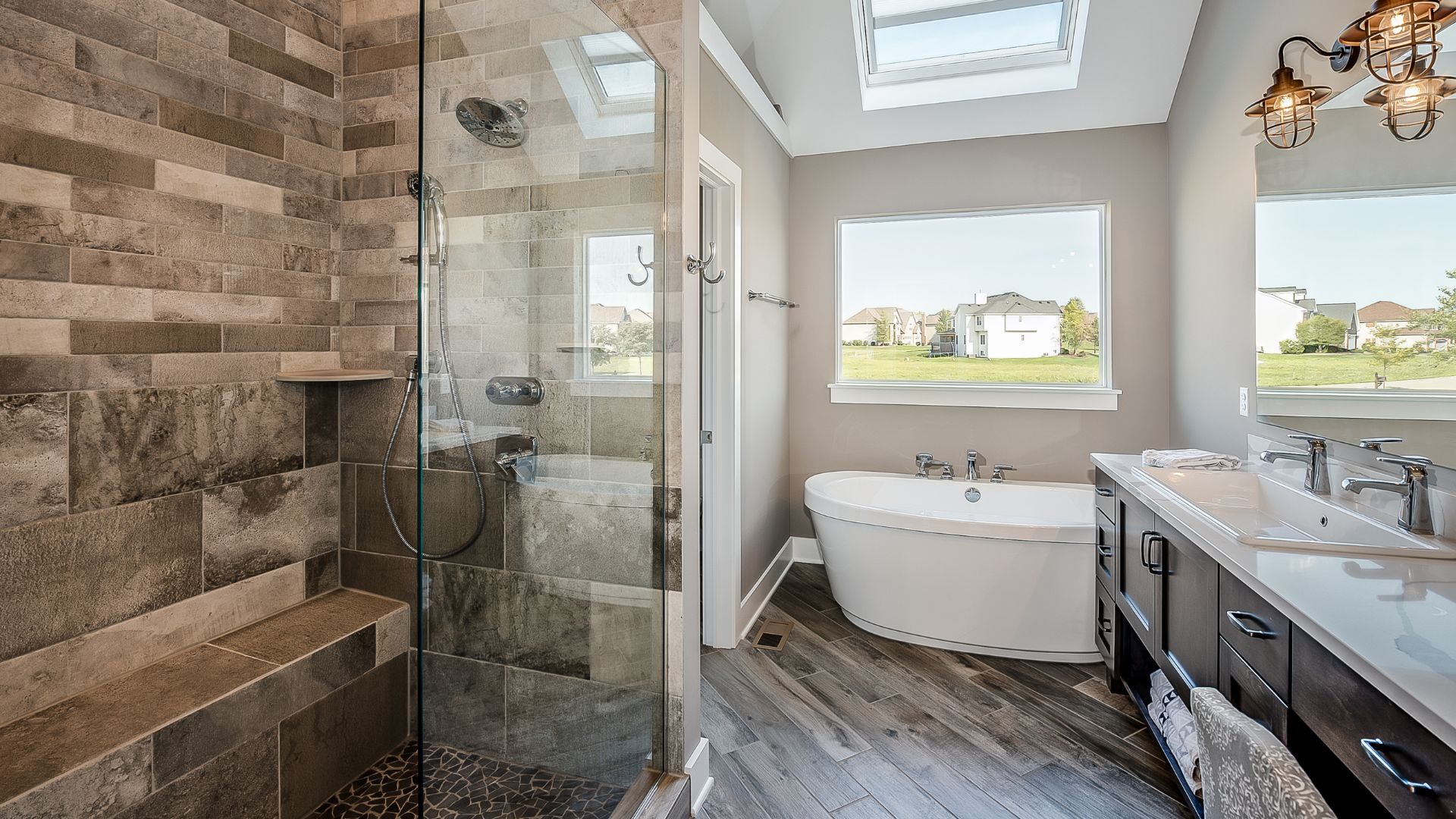 When you want to save time and money, going for walk-in shower remodeling kits is great. There are limitations to the design, size, and materials, yet for practical purposes, this can be a good option. You can have glass, acrylic, or ceramics for your walk-in shower kits. 
Most homeowners order a shower pan and a shower enclosure for their walk-in shower. This may not be the best, yet for the budget, it could work. However, renovating your shower doesn't happen every year, so if you want to make the most out of it, hiring a professional is your best choice. They can help you get a custom walk-in shower that fits your needs. If you happen to be one of those who want to have bathroom vanities, then this is the sign you've been waiting for. 
We can help you starting from design creation, material selection, and down to installation. That's a complete package that saves you time and money. Worry-free as well since all products have warranty service offered by their manufacturers. 
Let's talk about your dream shower remodel
We can't wait to help you realize your dream walk-in shower. Our team has in-depth experience and knowledge when it comes to shower and bathroom renovations. You can take advantage of our free design consultation today! See how our designers can help you customize the layout and design of your walk-in shower. 
You can also check out our online portfolio for reference. It's our passion to add value to the home of our clients. Nothing's impossible when it comes to getting your dream home, as long as there's planning, and you're working with a professional.  
Visit us on Houzz to get to know more about us! Should you require free design consultation, you can request one today! You can also call us at 703-936-6898 to get a quicker response from our team.