Is a new coat of paint on your kitchen's to-do list? Then we have the perfect kitchen remodeling ideas following the trendies colors for you. People often view the kitchen remodeling color scheme as a more neutral environment than other rooms in the house, such as the bedroom or living room, where more colorful paint choices are common.
However, that is not necessarily the case! No matter what kind of architecture a kitchen has, a fresh coat of paint can make it feel more inviting and unique. Just make sure that you're doing it with a reliable kitchen remodeling service, as they could guide you through. 
If you are looking for multi color kitchen remodeling in Clifton, VA, then we have a comprehensive list of the best color choices when remodeling your kitchen. 
The Most Trending Kitchen Paint Colors
Grainy wood and stone are two examples of earthy design ideas and textures that homeowners are increasingly drawn to. The color blue, one of the most soothing options, pairs beautifully with this style of decoration.
Blue is a terrific option for homeowners who want to make their kitchen colors more intriguing without going overboard, as it is bolder than neutrals (such as white, gray, or tan) while still being pretty classic. Right now, darker, deeper shades of blue are all the rage.
Cobalt Blue
For an authentic Mexican feel in the kitchen, try painting one wall a contrasting cobalt blue. Avoid using a single paint color for all of the walls.
Since this is such a strong color, using too much of it could make your kitchen appear cramped and stifling. Color the remaining walls white. If you're unsure about blue kitchen, you can look for kitchen remodeling before and after photos that used cobalt blue as the main color. This might change your mind. 
Natural greens
Bringing plants and other parts of nature into the home has been one of the most popular interior design trends of the past year. Since many products of the natural world end up in the foods we prepare, what better place to celebrate this than in the kitchen?
Natural greens, like the blue colors already mentioned, complement many of the wood and stone finishes that are currently trendy. With its calming effect, sage is quickly becoming the most sought-after kitchen paint color.
Sunny yellow
As a result of its striking nature, the color yellow is not always popular. On the other hand, it has proven to be a useful tool in the kitchen.
Yellow is a happy and welcoming color for the kitchen. Many of us start our days in the kitchen, and a cheery yellow paint color might be perfect for welcoming guests.
Yellows that are not quite as intense, such as pastels, can be just the perfect amount of cheerful without being overwhelming.
Sultry Red
A lot of people find that the color red is quite attractive. There is no other color that can give your kitchen the same feeling of luxury and beauty as red.
Pick out a vivid color, yet one that won't blind you. It would lift your spirits, along with the ambiance of your home.
The most variety can be found in shades of rose red, wine red, and crimson red. You may achieve a truly regal effect by adding all-white accessories and fittings.
Purple Kitchen Remodeling Color Ideas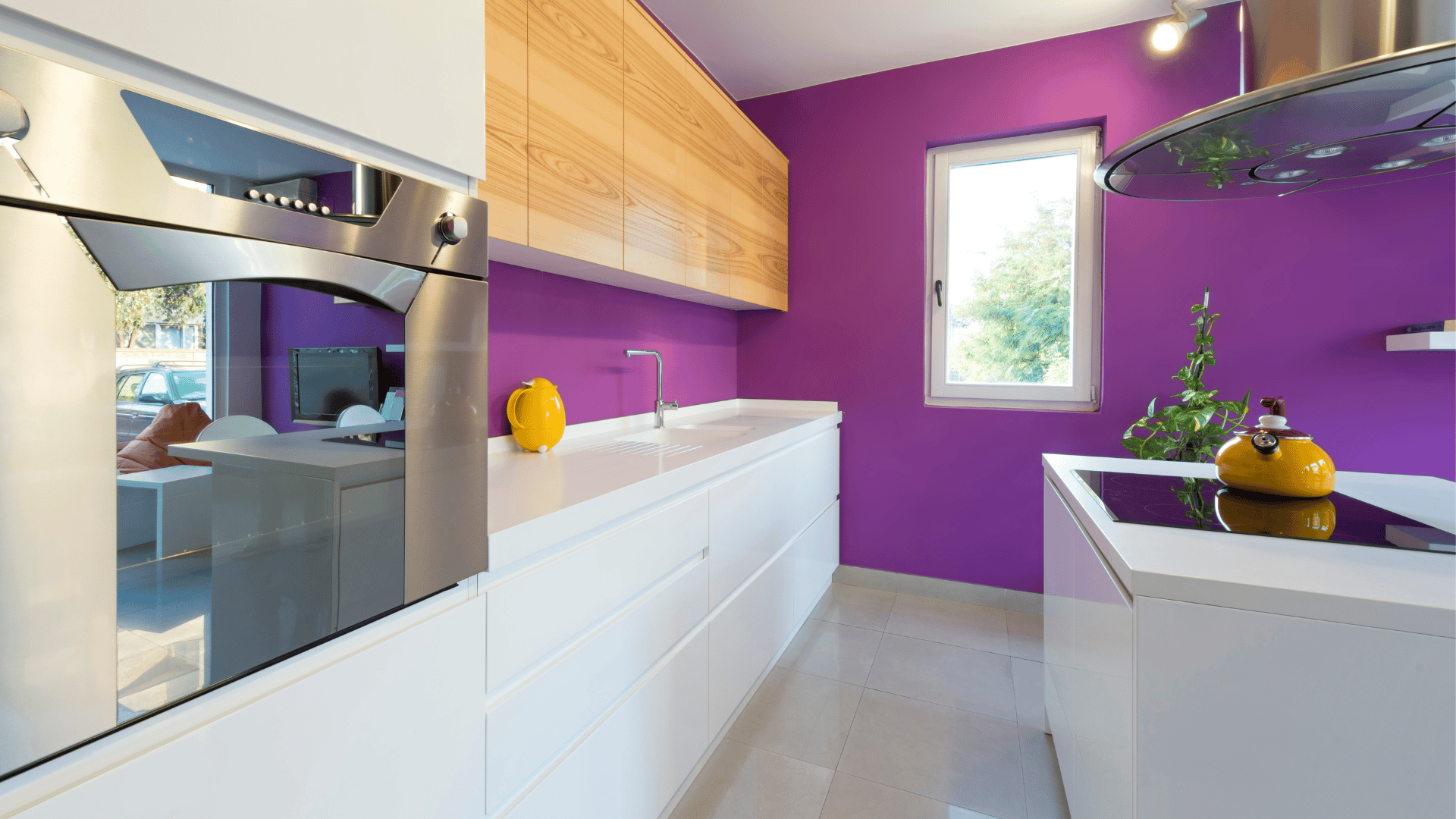 Kitchens decorated in shades of purple are believed to make people hungry. There are a lot of tints of purple like lavender, lilac, etc.,
Pick one that best suits your needs and bask in the splendor of the noble color. It may appear unusual to you at first, but after the kitchen is ready, you are going to adore it.
You can create a stunning effect by pairing a dark cabinet purple with a light accent wall. It would also look good with gray or teal furnishings.
Bold Blacks
Black in the kitchen is a stronger message than yellow, for sure. Black makes a statement in some portions of the kitchen, even though you might not want to paint the entire space that color (but it can work).
A space that is otherwise neutral can have a powerful splash of color thanks to black cabinetry, an accent wall, or black-painted floors. 
Clean Neutrals
According to most kitchen and bath contractors in Clifton, VA, clean neutrals are the most popular colors. Speaking of which, neutrals are still very much in style. Neutrals might be the ideal backdrop for today's trending natural textures.
You can still have fun with neutrals. They make the perfect background for a room where other things are more important.
Neutral colors are great for the kitchen if you're prone to mood swings or enjoy making seasonal changes to the space's design. Color can be introduced in many more ways, such as through window dressings, flowers, place settings, and more.
Walls Aren't the Only Kitchen Surface You Can Paint
It's true that a new coat of paint may transform the look of your kitchen, but it's far from your only option. To further illustrate the power of paint, here are some other examples:
Kitchen Cabinets
Painting your cabinets can change the space more than painting the walls because cabinets are frequently the most noticeable feature in kitchens. Before painting, cabinets often need to be taken apart, and depending on the material, they may need more priming and finishing.
Although it is possible to do it yourself, we advise contacting a professional for some advices regarding the right kitchen cabinet color ideas. Look online for ideas if you're hesitant to take the plunge or plan your own cabinet painting.
You can choose a paint color that matches the other kitchen features (countertops, floors, backsplash, etc.) and gives you more confidence in your choice by looking through a ton of fantastic design ideas.
Backsplash
If you want to update your kitchen without breaking the bank, consider painting your tile backsplash instead of replacing it. You can do it yourself with a lot less hassle.
If your old backsplash is dragging down your brand-new kitchen, you can easily give it a fresh new look by painting it.
Table and Chairs
You can add color to your kitchen in a less permanent way, but it will still make an impact, by painting your table and/or chairs. This is an excellent task for you to undertake if you enjoy restoring old pieces of furniture.
Sanding, painting, and applying a clear coat are typically all that are required.
We'd love to hear your thoughts!
Do you have some questions or comments? Visit us on Facebook.
You can also call our office phone at 703-936-6898 to get a quicker response.