GET FREE CUSTOM DESIGN AND ESTIMATE FOR YOUR DREAM KITCHEN
Top-Rated Kitchen and Bath Remodeling Leesburg VA Company
Class A, licensed and insured contractor, registered in the Commonwealth of Virginia.
More than 1500+ Happy Customers...
Premium Quality Products Guaranteed
ONE-STOP KITCHEN REMODELING COMPANY
Property Owners in Leesburg, VA Redesign Home with New Fixtures and Stone Counters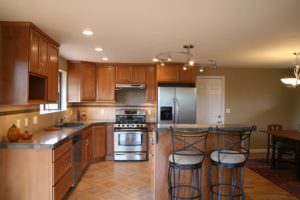 Leesburg, Virginia is a town located inside of Loudoun County. It is about 33 miles to the west-northwest of Washington D.C. Adjacent to this city is also the Potomac River. The population of Leesburg, as of 2010, was over 42,600 people. You can travel to and through Leesburg using the popular Dulles Greenway toll road, which also takes you to the Washington Dulles International Airport.
The city of Leesburg has gone under tremendous development and growth over the last three decades. Turning it from your typical small, rural community into a suburban bedroom community. It's where commuters pass through to get to the capital of the nation, bringing tons of business each day.
The city was named after Thomas Lee to honor him. A lot of people mistakenly believe that the town was named after his son Francis Lightfoot Lee, who lived in Loudoun and actually created the bill for the city of Leesburg to be established. Others think that the town was named after Rober E. Lee, which is the great-grandnephew of Thomas Lee.
There's a lot of history you can find here in Leesburg, which is why it attracts tourists and residents alike. You can also find plenty of great attractions here that appeal to both travelers and locals alike.
Fun Things to Do in Leesburg, VA
There are lots of fun things you can do alone and with the family. If you're into see all the historical sites this place has to offer, then you should check out destinations, such as Winmill Carriage Museum, Loudoun Museum, Gallery 222 and Museum of Hounds and Hunting. There are also sites you can see that hold historical significance, like Oatlands Historic House & Garden, The Marshall House, Historic Downtown and Ball's Bluff Battlefield and National Cemetery.
The restaurants and bars here are also worth checking out, which include Fabbioli Cellars, Stone Tower Winery, Casanel Vineyards and Zephaniah Farm Vineyard. If you're looking to stroll in a local park, you can find various options, such as Morven Park, Ball's Battlefield Regional Park, Red Rock Wilderness Overlook Regional Park and Historic Morven Park.
Family Home in Leesburg, VA Upgraded with Stone
A young family in Leesburg, Virginia contacted Fairfax Kitchen and Bath about updating their property with beautiful new fixtures, cabinetry, vanities and stone slabs. The property owners came to our showroom to select the granite stone slabs they wanted installed in their kitchen and bathrooms. The couple wanted to have their home upgraded with new sinks, faucets, knobs and pulls, cabinetry, countertops, vanities and backsplashes. The bathroom floors were also to be redone using the tile from our line of products.
Family Loves their Newly Designed Home
Once the upgrades were performed by our licensed professionals, the couple and their family admired their new residence. The finished look of the kitchen and bathrooms gave the property new appeal. Plus, it helped to raise the property value. That's the great thing about installing new cabinetry and granite stone. You can never go wrong when you implement natural stones into your home's décor. As always, the outcome was satisfactory, which is what our contractors strive for each time.
The Project
The experts at Fairfax Kitchen and Bath went to the customers' residence to take measurements of the floors, counters, cabinets and walls to determine how much product would be needed to complete the work. An upfront estimation was provided, so the property owner would know exactly what they'd be paying when they hired us. The couple decided to purchase one of our deluxe packages for the kitchen and bathroom.
Once the granite slabs were cut into the proper proportions and the cabinetry were fabricated as needed, the products were transported to the residence for installation. Our contractors went to work right away removing the old cabinetry and counters from the kitchen. Then resorted to removing the vanities and flooring from both bathrooms.
Next, our contractors started working on installing the new cabinetry inside of the kitchen, followed by the granite stone installation. The kitchen had a kitchen island and lots of counters for prepping and hosting meals. Afterward, the granite backsplash that ran along the countertops and behind the stove was implemented meticulously.
The next area we worked on was the two bathrooms. We first started with the master bathroom, then worked our way over to the second bathroom. The flooring was done first, using hardwood from our selection of products. Afterward, we started installing the vanities and then the granite counters and sinks. The knob pulls they selected were installed on the cabinetry in the kitchen and in the bathroom design.
The entire project took three days to complete from start to finish. The work was seamless and quick, allowing the family to get back to their normal lives in no time.
Transforming Your Kitchen and Bath with Fairfax
The contractors at Fairfax Kitchen and Bath are all licensed, bonded and insured. We've been in operation for decades, providing homeowners in Leesburg, VA and surrounding cities with superb stone and fixture installation services.
The reason our customers love us is because of our speed, attention to detail and product selection. Customers can get installation and products from one place, which makes the process more seamless. You don't have to worry about slow shipping times when you're working with the professionals at Fairfax Kitchen and Bath.
We offer a grand selection of stone slabs, which include marble, engineered quartz and granite. These are available from popular brands like Silestone, Cambria and Caesarstone. Other products we have available include sinks, faucets, vanities, carpet, tile, knobs and pulls, and more.
If you're planning the details for your kitchen  remodel or bathroom remodel, contact the experts at Fairfax Kitchen and Bath. Free quotes are always available, so contact our office to schedule an appointment today!
Services We Provide
Kitchen Remodeling Leesburg VA
Bathroom Remodeling Leesburg VA
Proudly Serving
Leesburg
Specialized Categories
Kitchen Remodeler
Bathroom Remodeler
Cabinet Store
Nearby Places
LEESBURG COLONIAL INN HOTEL
I am a remodeling expert that loves to build beautiful homes. I write about our beautiful place in Fairfax and the homes that I have help over the years.