Renovating your kitchen is one of your biggest dreams, right? You want to have those fancy fixtures and beautiful cabinets and countertops. On the other side, you're also clueless about where to start on your kitchen remodel.
The first thing you need to do is to find inspiration for your kitchen remodeling before and after photos. That's why we've gathered some of the best kitchen remodelings before and after projects to inspire you.
These are designed by expert kitchen designers with years of experience in the industry. At Fairfax Kitchen and Bath, we can help you create a suitable design and layout for your kitchen redo.
Modern and Warm
If you want your kitchen to have a contemporary style but with subtle warmth, then this is your best inspiration. We used slab cabinet door style with a neutral tone to give it a cozy feel. The chrome finish bar pulls and round knobs also blend well with the cabinet door style.
The overall layout and design look cleaner and more modern. See how we've improved storage with those well-built base and wall-mount cabinets. The hanging pendant lights look great over the kitchen island.
If you want something like this for your small kitchen remodeling ideas before and after, we can do it for you.
Country Kitchen Remodel
Some of the notable traits of a country kitchen are a high ceiling, windows to see the overlooking countryside, wooden fixtures, and natural products like baskets and wooden chairs. The various hues of green, brown, and beige are the major things you'll see in a country kitchen.
We can seamlessly combine all those necessary elements of a country kitchen for your dream makeover. Some of these things are shaker cabinets, table linens, rustic-colored accessories, baskets, and other natural materials. Of course, we're going to place them in their right spot, and when they are necessary.
White Kitchen Remodel
The all-white kitchen is a classic dream for most homeowners. It projects a clean and simple look that most people want for the busiest section of their house. White can seamlessly blend with any other hues and materials you want to have inside your kitchen.
Here, we used shaker-style cabinets with round and arched pulls. The chrome finish of the hardware matches its white door profile. There is also plenty of storage, which is needed for your busy kitchen. Open shelving for your condiments is also great for easily finding what you need.
A white contemporary kitchen is one of your best options for your kitchen remodeling ideas before and after. 
Need more space for an airy vibe?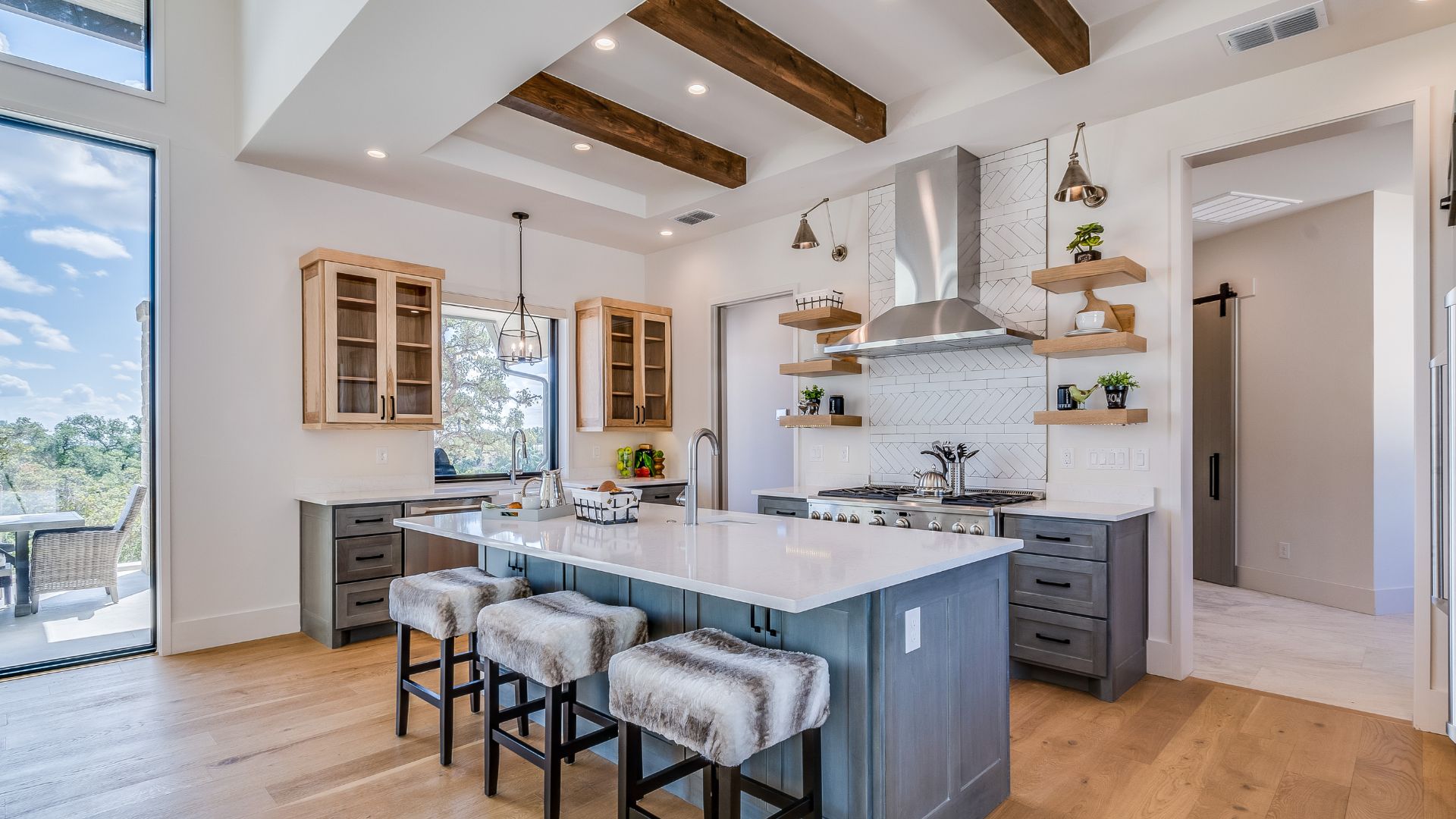 When your kitchen feels cramped and busy, you'd need more space to breathe to move around, right? This is one of our trending remodeling kitchen ideas before and after your request.
The high ceiling and wide countertop space are all you need to freely move around your kitchen. The size of this kitchen island is compact, so you have more space to walk around in any section. We understand that you want to freely move from your sink, cooktop, and fridge.
If you want a more spacious kitchen, we can help you get that. Our professionals are experienced and trained for any kitchen renovation.
Rustic Classic Kitchen Remodel
Do you love those brass or gold finishes inside your kitchen? This kitchen remodeling idea is the best fit for you. We incorporated rustic hues to give it a classy and elegant feel. The combination of brass and gold finishes from the chairs, cabinet hardware, faucet, and accessories perfectly give the kitchen its rustic elegant looks.
We used dark brown for the kitchen island to make it stand out from the other white base kitchen cabinets. The white stone countertops and seat cushions match up well.
We also installed a hanging pendant light in an antique style to complement all the rustic features of the kitchen. The plan of our designers panned out well for this rustic and classy kitchen makeover.
Hire a professional kitchen remodeler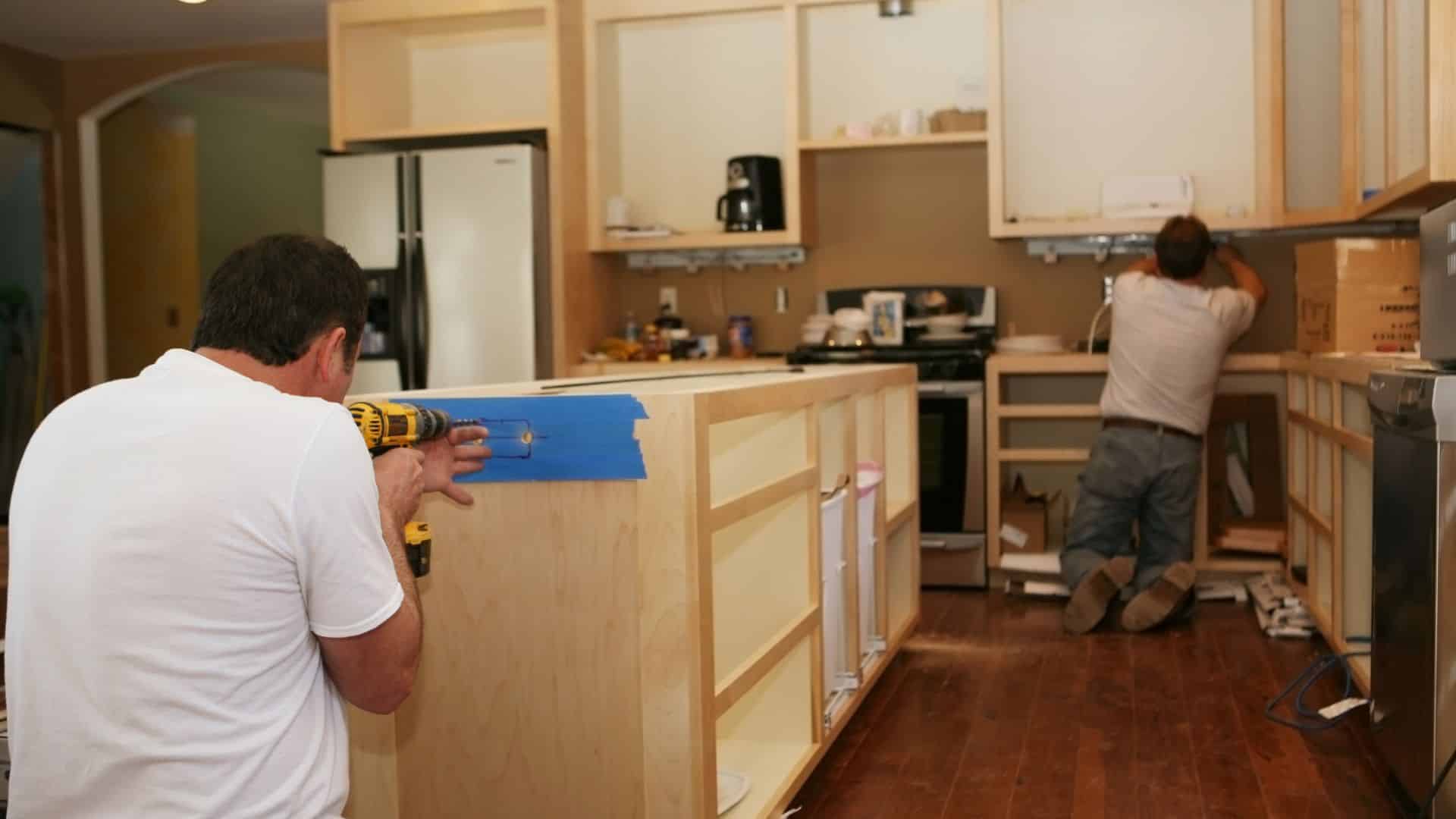 We hope you enjoyed our kitchen remodeling pictures before and after ideas. These inspirations will help you imagine your dream kitchen. If you need help creating the 3D design of your dream kitchen, book a free design consultation with us. Fairfax Kitchen and Bath is your licensed and bonded contractor in Virginia, Maryland, and Washington DC.
Our designers can easily make a custom kitchen layout and style that suits your preference and budget. Consider getting ideas with Kitchen Remodeling on budget. We can work with any kitchen design, one that supports your lifestyle. With us, you are confident that all details you want for your kitchen will be achieved.
Our project manager will communicate with you for timely updates. We keep open and friendly communication with our clients regarding their needs and concerns. 
Book a call with us to get free advice and design of your ideal kitchen makeover.
Contact us today for your free quotes and virtual consultation. For many years, we've helped several homeowners in VA, MD, and DC with their affordable shower renovation. Don't hesitate to call our office today or visit us on Houzz!