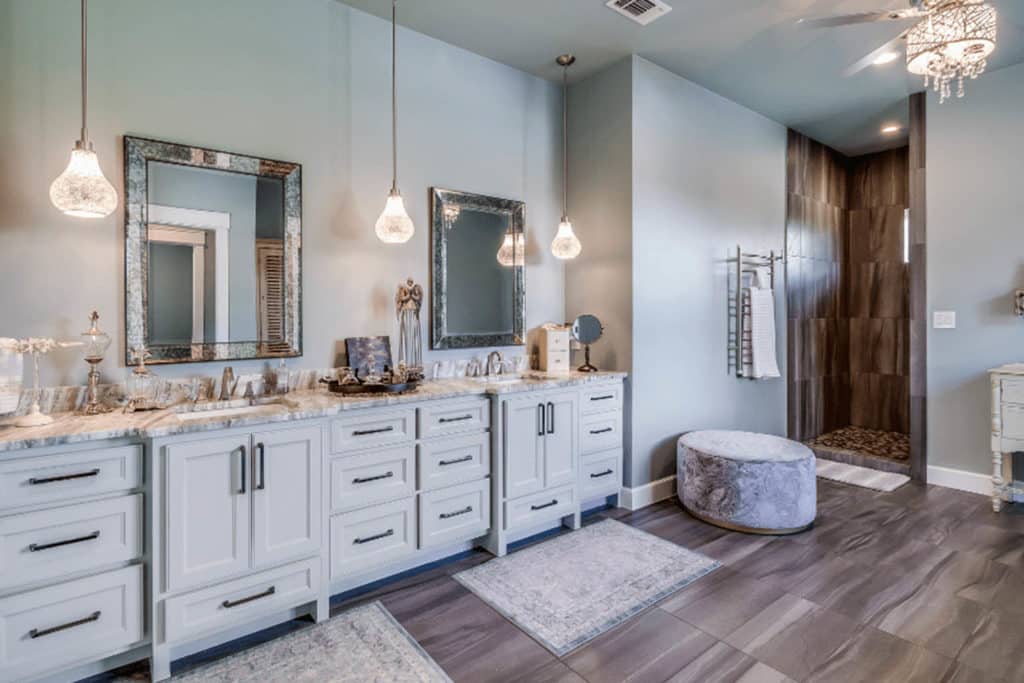 Whether you are living in a new home or you have been there for the long term, at some point your bathroom will start to look and feel outdated and the first step to fixing an old bathroom is getting some bathroom remodeling ideas. 2021 is a year of new beginnings and there have been some really interesting things happening with bathroom remodeling design ideas that make this one of the best times ever to get bathroom makeovers started and completed.
This year people have been doing some really interesting things from sleek, modern bathroom remodel ideas to bringing back timeless bathroom remodel ideas, this is just a great time to be remodeling your bathroom. You can really do anything you want with your bathroom remodel, so spending some time pondering your real desires is a key to making sure that you choose the right bathroom remodeling ideas that will make you happy, not just for a few years, but for decades.
For this article we will present all the most amazing bathroom remodeling ideas we have been seeing this year so that you will have the inspiration to get your project started the right way.
#1 All White Bathroom Remodel
Choosing white as a base color for bathrooms has become a standard for many homeowners because it gives a clean feeling and spacious vibe. This means white for your tub, vanity top, walls, bathroom cabinets, and shower walls. Using stainless steel shower trims, faucets, and towel rails to complement your white surfaces is one of the bathroom remodeling ideas that adds to the clean feeling of an all white bathroom.
If you are feeling that the all white bathroom is too sterile or cold, you can add some natural wood elements to bring in some warmth and charm. Plants also look really awesome in an all white bathroom, adding a living and calming element that is one of the top bathroom remodeling ideas.
#2 Geometric-Style Floor Tiles and Marble Vanity Tops
It is easy to underestimate your bathroom floors when coming up with bathroom remodeling ideas, but this year a lot of designers are making the bathroom floor a focal point. Use unique shaped tiles like hexagons and add some subtle different colored tiles in a pattern for a unique look.
Going for a floor that matches the walls is a great way to make the room seem open, on the other hand a contrast between floor and wall color will also make for an interesting visual experience. White marble vanity tops are all the rage this year and are a timeless beauty that everyone can appreciate.
#3 Pebble Shower Tiles
If you're worried about slipping inside the shower, then textured, pebble floor tiles are one of the bathroom remodeling ideas that could be perfect for you. The round stone surfaces will give a massage to your feet while increasing your grip. They usually come in darker, earthy tones that make you feel like you are bathing in a mountain spring. The best bathroom remodeling ideas we have seen this year have matched pebble floors with wooden enclosure walls to enhance that natural, forest feeling.
Incorporate some humidity loving plants into your bathroom remodel and you are sure to feel calm and relaxed each time that you have the chance to bathe.
#4 Warm Bathroom Tones
A clean and sterile environment is one way to go with bathroom ideas, but you can also get an awesome look that is warm and cozy. To achieve this you can go for travertine panels for your shower walls, and then stone tiles for your flooring.
Travertine is a natural, light colored stone with brown hues that make it feel aged and earthy. Pair that with darker colored stone floor tiles and you will have an inviting bathroom to spend an evening soaking in your tub with some glowing candles.
#5 Wood Panel Walls and Marble Floor Tiles
This is one of the Scandinavian-inspired bathroom remodel ideas that is making a splash in bathroom design right now. The cool feel of marble stone is balanced by the warmer tones of wooden panels that makes you feel clean, but also like you are in a wooden cottage.
#6 White Freestanding Tub and Seagrass Basket
White freestanding tubs are one of the bathroom remodeling ideas having a well deserved moment to shine this year. If you also enjoy showers, you can have a shower stall as well if space allows. A seagrass basket is good for storing your toilet rolls and extra linens, adding natural warmth and visual appearance to your bathroom space.
#7 Fun Honeycomb Wall Tiles and Floating Bathroom Countertops
If you're bored with white, flat walls, then inject excitement through honeycomb wall tiles. Pair these interesting tiles with a classic white floating vanity top made from marble or quartz to achieve an elegant and visually stimulating bathroom.
#8 White Bathroom with Black Vanity Cabinet and Brass Accents
To add some contrast to a clean, white bathroom motif you can install a black vanity with brass hardware. This is one of the most interesting bathroom remodeling ideas that will make your bathroom really stand out. Copper or brass faucets are also very popular with this look and can make your bathroom look extra fancy.
#9 Forest Bathroom Remodel Theme
We have been hinting at it in some of our previous bathroom remodeling ideas, and we feel that 2021 is the year to make your bathroom into a magical, forest hot spring experience. Wooden walls with stone tile floors are a great backdrop to your forest bathroom.
A white sink or vanity top will bring a domesticated look so you aren't feeling totally lost in the woods. Make sure you have a big window and we like to suggest a skylight so that you can see the stars at night. Be sure you have plenty of space for plants in your forest bathroom and we like the idea of an open shower that splashes around and waters the plants as you bathe.
#10 Gray Bathroom Subway Tiles and Two Vanity Mirrors
Here's another of those Scandinavian bathroom remodel ideas. Gray subway tiles never go out of style and it's great for a minimalist contemporary vibe.
You can also have metallic finishes or wooden fixtures to flair up against your gray background. Also, you can have two wide vanity mirrors with brass frames to make a more spacious feel.
#11 Extended Grayish White Marble Countertops and Wide Vanity Mirror with Recessed Lighting
With a white or gray bathroom base color, a grayish-white marble vanity top fits well for achieving a chic bathroom design theme. The bolder gray and white veining of marble will give you endless entertainment as you notice different patterns and shapes that appear with different lighting and your different moods.
Adding a wide vanity mirror with some recessed lighting completes this look with some sophistication. Anyone who uses your bathroom will be stunned by your style and grace.
Looking for a Reliable Bathroom Remodeler Near You?
We hope these bathroom remodeling ideas have inspired you to make the next steps in making your new bathroom come to life. If you have further questions about getting your project off the ground, give us a call. We have extensive experience and training in this field, so we can guarantee the success of your bathroom remodeling ideas.
Visit our showroom in Fairfax for even more inspiration. We also provide a free estimate service and free in-home design to help you visualize your dream bathroom.
For a free quote or consultation call our office today or visit us on Facebook anytime!